Mental health concerns affect a considerable section of every modern civilization, yet services have not been as easily found as they are now thanks to online counselling. The accessibility and utilization of online mental health services has skyrocketed after the covid 19 pandemic and people worldwide are now interested in learning more about online counselling. In this article, we will dive into what online counselling is, what is done in online counselling, the benefits and disadvantages of online counselling, how to know if it is right for you, and how to find it.
What is Online Counselling?
Thanks to the Internet, there is now an abundance of psychoeducational webpages, online outreach programs, collaborative self-help programs, as well as online group and individual counselling via email, live chat, video, and phone calls.
Online counselling is a type of professional mental health counselling that takes place over the internet. Such services delivered via the internet are represented in a number of terms including, web-based therapy, e-therapy, cyber therapy, email therapy, e-counselling, telehealth therapy, online therapy, internet therapy, virtual therapy, telehealth counselling and more. While the terminology used to describe this service may vary by country or organization, they all usually reference the use of technology to facilitate offering services.
Online counselling services may include sessions over the phone, video call, live chat, email, text, or even virtual reality. It is important to keep in mind that not all online counsellors will offer all of these service options so it is best to check with the provider directly to see which services are available to you.
What are the benefits of online counselling services?
As more people gained access to the internet and web-based services became more frequent, a need for an online intervention for psychological concerns emerged. While online counselling has been around for over two decades, it has now become more commonly used since the covid crisis gave us a bigger need for it. Outlined below are the benefits that can be gained from an online therapy chat.
Geographical Access:
Many large nations, such as Canada, the United States, Russia, and Australia, lack mental health services in rural areas, making consistent mental health treatment across the country impractical. This essentially means that non-urban regions had largely been underserved prior to online counselling. As a result, e-therapy now gives people who are living remote the chance to talk to someone online about their problems.
Telehealth therapy also responds to the needs of people living in small or island countries who do not have access to mental health services at all. Many of these smaller countries have the technology and internet access needed for virtual therapy services which allows mental health professionals to help more people.
Cultural Limitations:
Given the increase in worldwide migration, mental health support has grown even more difficult when patients and caregivers have different cultural backgrounds and understanding, or when they can't properly communicate due to the language barrier in therapy.  Patients from minority cultures can use the internet to find a culturally-sensitive therapist, even if they are physically located in a country or city that does not have culturally diverse therapists. Patients can look for a therapist who shares their cultural background or religious beliefs, has a similar shared life experience, speaks the same language, or specializes in working with people of specific cultures or specific problems such as acculturation, immigrant depression, etc.
Online counselling has helped people all over the world find a therapist that is the right fit for them. Directories such as Inclusive Therapists focus on making sure that people especially from marginalised communities find a therapist who is understanding and practices cultural humility. It can also be a good idea for migrants to search for therapists who have a Culturally and Linguistically Diverse (CALD) background when looking for online therapy in Australia as these mental health professionals may be a better fit.
Economical and Practical:
Teletherapy does not require individuals to accumulate travel expenses, which means that you can attend more online therapy sessions without having to worry about the added cost of driving to a therapist's office. With the cost of petrol going up, saving money in this area means you can instead spend that money elsewhere. The online therapy cost is an investment in healthcare that is just as important to budget for as a root canal. It is, however, an added bonus that with virtual therapy, the added travel expenses of petrol, childcare, taking long lunch breaks, etc will not add to the cost.
Stigma:
People may often hesitate before seeking help due to the stigma associated with mental health conditions and how it would affect them in society. Some people may find it simpler to attend online therapy sessions rather than traditional in-person treatment since it is more private and it does not involve a risk of anyone seeing you go to a therapist office. While there should be no shame in seeking mental health services, online mental health support is a great option for those who are not ready for others to know they are in treatment.
Comfort
With online counselling, you will also have the comfort of your own space and you can snuggle up with your pet for extra support or curl up in your favorite chair with a cup of tea and your warm blanket if you prefer. You don't have to worry about getting ready to go out in public when heading to therapy sessions either and can show up in your comfiest clothes. You also have additional privacy and do not have to worry about leaving the therapy office red faced or teary eyed if it has been an emotional day
After your therapy session, you won't need to rush out of the office when the therapist has another appointment because you can simply turn off your device and take the time you need in the privacy of your own home or even your car. You can also attend sessions from anywhere you are so if you need extra support while you are away on a work trip or visiting family, you can still access your counsellor.
Environment
You can also choose an environment that soothes you such as a quiet local park or secluded beach near you. Being in nature helps with feeling grounded and has huge mental health benefits, so you can consider trying this during your telehealth appointment as well if it helps you. With technology these days, you can simply put on headphones for added privacy and go for a walk during your session. Movement and exercise, especially outdoors can be beneficial when you are experiencing depression or anxiety so it is good to have that option with virtual counselling. You can also have a session from your car while you are driving,  although this may depend on your local laws. While it is best for there to be zero distractions during your therapy sessions, mental health professionals are typically understanding if you have a busy schedule that means you may have to squeeze in an appointment during your commute to work for example.
What are some potential criticisms or disadvantages of virtual therapy?
Some practitioners dislike e-therapy because they believe that using the internet to overcome distance limits is problematic. Here are some of the arguments:
Confidentiality:
While internet therapy may appear to be more discreet, there remains the possibility of violations of privacy. Electronic Internet conversations that are not encrypted may be monitored, and records may be retrieved by family members or hackers.
This can be avoided, however, by ensuring that communication between yourself and your therapist is limited to sessions via an encrypted platform. Having therapy over Zoom is effective and secure. Communication on platforms such as Facebook, Instagram, and Whatsapp may be compromised so as long as you are using a secure platform for communication, this will limit the risk of conversations being used by others who are not authorized. Online therapy is never recorded without a client's permission.
Technological issues:
It's also worth mentioning any potential technological issues since not everyone has equal technology internet infrastructure and power outages during sessions must also be considered. Even the greatest connectivity and technology might have issues at times, causing the therapy session to be disrupted or cut short. The audio may have a slight lag via the internet, and the image may be blurry.
Technology will never be perfect but it has vastly improved over the years and will continue to help mental health professionals reach those in need. There are usually ways around technology issues. With Zoom for example, most issues are fixed by simply logging in and out of the meeting. If the image is blurry or keeps freezing, turning off the video may help and the session can be done using audio. Many people have options they can try to improve their internet connection as well or they may be able to go somewhere that has better reception. While technology issues can be frustrating, you may find an online counsellor who is a better fit for you than an in-person professional, if so, it may be worth dealing with occasional technology glitches.
Emotional Connection & Commitment:
Some may argue that in comparison to traditional therapy, it may be more difficult to establish a therapeutic relationship between the therapist and the patient at first. It may also make it more difficult for the patient to commit to therapy, making it easier for them to withdraw. It may also be argued that nonverbal signals, body language, and voice characteristics cannot be communicated or recognized because of the absence of face-to-face exposure.
Again, this may appear to be a barrier at first, but any experienced professional can quickly overcome such limitations for the benefit of clients. More and more research is indicating that online counselling is as effective as face to face therapy.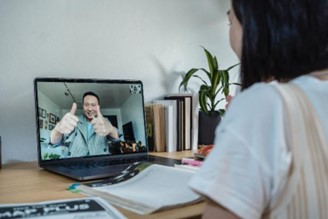 Is Online Therapy right for me?
Online counselling may be a quick and easy approach to getting mental health treatment. Individuals who are suicidal should seek out crisis support as online therapy is not suitable if you have an intention of taking your own life. However, online counselling may be a good fit for you if you are not in crisis but are still struggling with your mental health and are seeking support. Below are some things to keep in mind to help you determine if online counselling is right for you.
You do not have to be suffering from a diagnosable mental health issue such as depression or anxiety to benefit from telehealth therapy. Even if you are struggling to cope with everyday concerns such as excessive stress, low self-esteem, or difficulty sleeping, a therapist may provide professional support and aid you in achieving positive changes. If you are going through a hard time in your life, such as a loss of a loved one, divorce, or unemployment, therapy can make a difference.
Online counselling may be a good fit for you if you are a traveler, you work a lot,  have a busy schedule, or you struggle to find childcare. Of course, this list is not exhaustive and If you find it inconvenient or uncomfortable to go into an office, this may also be a good option for you. Whether you choose to work with a counsellor, psychotherapist, social worker, psychologist, or psychiatrist, be open to trying out different approaches to determine what works best for you.
If you struggle with social anxiety or agoraphobia, online counselling may be a great idea for you to try since it does not require leaving your home where you may feel most safe. A mental health professional can help you learn to manage these conditions so that eventually you can go out into the world without fear.  Online therapy may feel weird at first but a trained mental health professional should be able to help you feel at ease. A counsellor may assign you homework between sessions or ask you to practice some approaches that can help you feel better. Be committed to putting in the time and effort to try these techniques and coping skills. Online therapy does not work if you do not put in effort on your end and are not truly open to it. The same goes for therapy or healing of any kind as it may not be an easy journey to recovery, but it is one that is worth it.
How to find online counseling?
If you're looking for an online therapist, you have a lot of possibilities. Most therapy directories have an option for you to check a box for online or telehealth therapy. If you would like to learn more about online counselling and book an initial consultation call with a trained therapist,  Global Citizen Therapy can help you. We provide a safe environment in which you can begin the deep inner healing work that you require.